At Daikin, we've been 'perfecting the air' for over 50 years to make your home a calm and comfortable place – for you and your family.
As 'Air Specialists', Daikin is driven to improve all aspects of indoor air quality; temperature, humidity, flow and cleanliness. This is captured in our Product Pillars:
Air Conditioning
Air Purification
Ventilation
Importance of Indoor Air Quality
Did you know Aussies spend around 90% of our time indoors? With a whopping 21 plus hours spent inside each day, Indoor air quality has never been more important. Learn more about how breathing clean air that's free from pollutants has a huge impact on our health and wellbeing.
Solutions for Better Indoor Air Quality
Australians spend around 90% of their time indoors. So the quality of the air we breathe inside has never been more important. Learn more about Daikin's comprehensive range of air conditioning, air purification and ventilation solutions that deliver a cleaner and healthier environment.
For fresher, healthier, and more comfortable indoor spaces, learn more about the options available to you by choosing an application below.
Streamer Technology
The secret to high performance air purification is Daikin's Streamer technology. This innovative technology features a high-power plasma discharge that generates high-speed electrons to decompose harmful substances. This powerful oxidative decomposition process continuously removes odours, bacteria and indoor air pollutants, such as formaldehyde, for superior air purification.
Streamer emits high-speed electrons.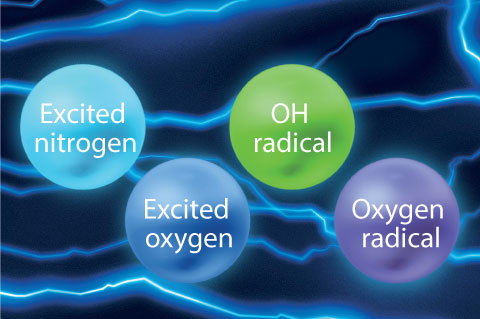 The electrons collide and combine with nitrogen and oxygen in the air to form four kinds of elements with powerful oxidative decomposition capabilities.
These elements break down unwanted substances.
How effective is Daikin Streamer Technology?
Eliminates
Pollen
More than 99.6%1 in 2 hours
Eliminates
Mould
More than 99.9%2 in 24 hours
Eliminates
Allergens
More than 99.61%1 in 24 hours
Verified at Wakayama Medical University with the following test condition: Irradiated allergens with Streamer & checked decomposition of allergen proteins by either the ELISA method, electrophoresis or electron microscopy.
Verified at Japan Food Research Laboratories using antibacterial test/mould elimination test (test number: 204041635-001).
*Room Size is calculated according to NRCC-54013 standard using cigarette smoke CADR tested according to JEM1467.
Approved by the National Asthma Council Australia, Daikin air purifiers and split systems are authorised to display the Sensitive Choice butterfly symbol.
Learn More About IAQ Solutions