AIR PURIFIER
Don't compromise on health and comfort. Breathe easy with Daikin's Air Purifier.
Daikin Air Purifiers improve the quality of your air indoors with its advanced 6-layer filtration technology which purifies the air in your home by eliminating bacteria, airborne particles and odours.
It is also ultra quiet with operating sound levels of as low as 16dBA which means you can not only sleep soundly at night, but also with peace of mind.
Approved by the National Asthma Council Australia, Daikin air purifiers and split systems are authorised to display the Sensitive Choice butterfly symbol.
Key Features
It's the unique features of Daikin products that makes us the world leader.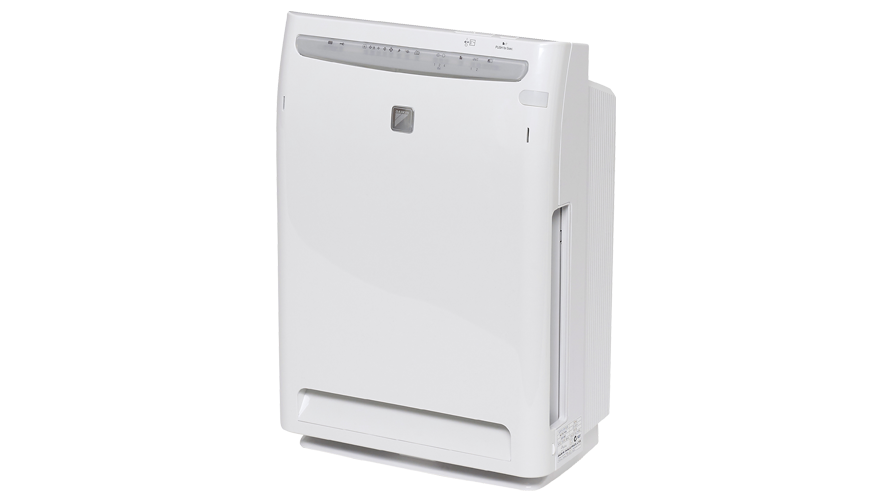 Compact Design

Easy portability and unintrusive design to help optimise in-home space.

DC Fan Motor

The DC motor efficiently controls fan rotational speed for greater power savings.

Ultra Quiet

Whisper quiet operations as low as 16dBA ensures a pleasant night's sleep.

6 Layer Filtration System

Features a streamer discharge unit, plasma ioniser, three filters and Daikin's trademark titanium apatite deodorising air purification filter.

Dust and Odour Indicators

Contaminant and odour levels are displayed on top of the unit allowing for easy monitoring.

High Airflow

Features airflow rate of up to 420m³/h making it suitable for rooms up to 46m².
Daikin Air Purifier
Daikin's Air Purifier includes a 6-layer powerful decomposition and removal system to help eliminate bacteria, mould spores, airborne particles, allergens, dust, pollen and unpleasant odours.
Daikin's 5-year parts and labour warranty applies to split, multi split and ducted air conditioners purchased and installed in homes across Australia
6 Layer Filtration System
1
Streamer Discharge Unit
The streamer discharge unit releases high speed electrons that collide with oxygen and nitrogen molecules, this therefore activates them and enables oxidative bacteria decomposition.
2
Prefilter
The prefilter is a polypropylene net filter with catechin. It captures larger particulates such as dust, bacteria and allergens to ensure unimpeded operation of other filters in the system.
3
Plasma Ioniser
The plasma ioniser electrically charges any dust and pollens that pass through making it easier for the electrostatic filter to collect.
4
Electrostatic Filter
The ionised dust and pollen are attracted to the oppositely charged electrostatic filter. This ensures efficient and thorough collection of these particles by the filter.
5
Titanium Apatite Deodorising Filter
This specialised filter traps microscopic particles, decomposes odours and even deactivates bacteria via the use of a titanium apatite photocatayst.
6
Deodorising Catalyst Filter
Formaldehyde and any remaining odours are decomposed by the deodorising catalyst filter keeping your air clean, fresh and odour free.
Technical Specifications
Available Options:
Applicable Room Area:

46m²

Power Supply:

1 Phase, 220-240, 50Hz

Deodorising Method:

Flash Streamer / Titanium Apatite Deodorising Filter / Deodorising Catalyst

Bacteria Filtering Method:

Flash Streamer / Titanium Apatite Deodorising Filter

Dust Collecting Method:

Plasma Ioniser / Electrostatic Dust Collection Filter
Model
MC70LPVM
Power Supply
1 phase, 220-240V, 50Hz
Colour
White
Dimensions (HxWxD)
(mm)
576x403x241
Weight
(kg)
8.5
Mode
Turbo (HH)
High (H)
Medium (M)
Low (L)
Silent (LL)
Running Current
(A)
0.55
0.25
0.15
0.1
0.08
Rated Power
(W)
65
26
16
10
7
Airflow Rate
(m³/h)
420
285
210
130
55
Sound Power Level
(dBA)
63
54
47
39
31
Prefilter
Polypropylene Net with Catechin
Dust Collecting Method
Plasma ioniser + Electrostatic Dust Collection Filter
Deodorising Method
Flash Steamer + Titanium Apatite Deodorising Filter + Deodorising Catalyst
Power Cord
(m)
2
Standard Accessories
Wireless Remote Controller, Titanium Deodorising Apatite Pleated Filter
<![if supportMisalignedColumns]> <![endif]>
Common Questions
We know you have questions.
Here are our most frequently asked questions and the answers that go with them.
Air Purifier
A Daikin air purifier improves the quality of your air indoors, with its advanced technology and ultra quiet operation. A Daikin air purifier is ideal if you suffer from asthma, hay fever or allergies, particularly if your condition keeps you awake at night.
Why choose Daikin?
Experts in Air Conditioning

Specialist Dealer Network

Quality After Sales Support
Sensitive Choice® Approved